Book Club XD
Your brand new selection of books for 7-11-year-olds is here!
The
Book Club XD
range is carefully chosen by our team of experts to offer the newest and best books for children aged
7 to 11 years
.
Plus, don't forget that every order over £10 will earn your school
20% in free books
– so you can keep reading all year round. Take a look at the books below or
browse the whole Book Club XD range
.
Not sure how
Scholastic Book Clubs
work?
Find out more
.
---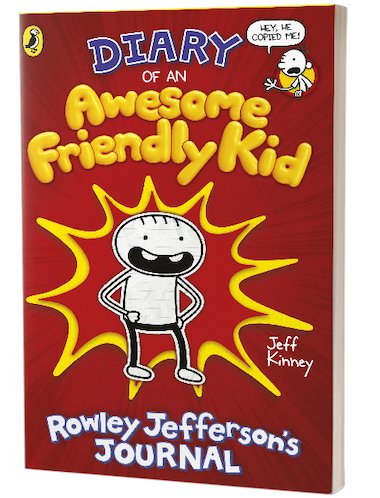 May Book Club Highlight
We have chosen Diary of an Awesome Friendly Kid as our XD Book of the Month for May because it is a hugely appealing book that will get both reluctant and keen readers turning the pages.

Jeff Kinney's Diary of a Wimpy Kid series has long been an absolute kid favourite, full of imaginative cartoons and cheeky humour known to hook readers in for life. Now the Wimpy Kid's best friend, Rowley, is finally telling his unheard story, and adding his personal take on Greg's life story, too. After all, Greg will be rich and famous one day, and everyone will want to know all about him. But Greg isn't at all happy with the results! Told with Jeff Kinney's hallmark wit and visual flair, this is an insightful look at what it means to be a writer and tell stories from differing perspectives. It is also a funny tale of friendship starring a much-loved side character. One to get every kid wanting to read more and write more!
See more

Read the classics
Read the classics
usd prices

Price:

$9.15

gbp prices

Price:

£6.30

usd prices

Price:

$9.85

gbp prices

Price:

£6.80

usd prices

Price:

$17.60

gbp prices

Price:

£12.15

usd prices

Price:

$9.15

gbp prices

Price:

£6.30

usd prices

Price:

$9.15

gbp prices

Price:

£6.30

usd prices

Price:

$16.95

gbp prices

Price:

£11.70

usd prices

Price:

$9.15

gbp prices

Price:

£6.30

usd prices

Price:

$9.15

gbp prices

Price:

£6.30

usd prices

Price:

$33.20

gbp prices

Price:

£22.90

usd prices

Price:

$9.15

gbp prices

Price:

£6.30

usd prices

Price:

$10.45

gbp prices

Price:

£7.20

usd prices

Price:

$36.45

gbp prices

Price:

£25.15

usd prices

Price:

$9.85

gbp prices

Price:

£6.80

usd prices

Price:

$27.40

gbp prices

Price:

£18.90

usd prices

Price:

$33.85

gbp prices

Price:

£23.35

usd prices

Price:

$144.55

gbp prices

Price:

£99.70

usd prices

Price:

$11.75

gbp prices

Price:

£8.10

usd prices

Price:

$9.15

gbp prices

Price:

£6.30

usd prices

Price:

$9.15

gbp prices

Price:

£6.30

usd prices

Price:

$9.15

gbp prices

Price:

£6.30

usd prices

Price:

$7.00

gbp prices

Offer price:

£5.25

RRP:

£5.99

usd prices

Price:

$49.50

gbp prices

Price:

£34.15

usd prices

Price:

$39.10

gbp prices

Price:

£26.95

usd prices

Price:

$39.10

gbp prices

Price:

£26.95

usd prices

Price:

$78.30

gbp prices

Price:

£54.00

usd prices

Price:

$31.25

gbp prices

Offer price:

£21.55

RRP:

£23.97

usd prices

Price:

$9.30

gbp prices

Offer price:

£7.00

RRP:

£8.99

usd prices

Price:

$7.85

gbp prices

Price:

£5.40
See more

Funny books
Funny books
usd prices

Price:

$15.65

gbp prices

Price:

£10.80

usd prices

Price:

$7.85

gbp prices

Price:

£5.40

usd prices

Price:

$9.15

gbp prices

Price:

£6.30

usd prices

Price:

$15.65

gbp prices

Price:

£10.80

usd prices

Price:

$8.00

gbp prices

Offer price:

£6.00

RRP:

£6.99

usd prices

Price:

$15.65

gbp prices

Price:

£10.80

usd prices

Price:

$9.15

gbp prices

Price:

£6.30

usd prices

Price:

$16.95

gbp prices

Price:

£11.70

usd prices

Price:

$8.00

gbp prices

Offer price:

£6.00

RRP:

£6.99

usd prices

Price:

$9.15

gbp prices

Price:

£6.30

usd prices

Price:

$9.15

gbp prices

Price:

£6.30

usd prices

Price:

$36.45

gbp prices

Price:

£25.15

usd prices

Price:

$3.65

gbp prices

Price:

£2.50

usd prices

Price:

$9.15

gbp prices

Price:

£6.30

usd prices

Price:

$9.85

gbp prices

Price:

£6.80

usd prices

Price:

$17.60

gbp prices

Price:

£12.15

usd prices

Price:

$7.85

gbp prices

Price:

£5.40

usd prices

Price:

$7.85

gbp prices

Price:

£5.40

usd prices

Price:

$9.15

gbp prices

Price:

£6.30

usd prices

Price:

$9.15

gbp prices

Price:

£6.30

usd prices

Price:

$6.30

gbp prices

Price:

£4.35

usd prices

Price:

$79.25

gbp prices

Price:

£54.65

usd prices

Price:

$8.10

gbp prices

Price:

£5.60

usd prices

Price:

$103.70

gbp prices

Price:

£71.50

usd prices

Price:

$7.20

gbp prices

Price:

£4.95

usd prices

Price:

$6.50

gbp prices

Price:

£4.50

usd prices

Price:

$3.65

gbp prices

Price:

£2.50
See more

Books for animal lovers
Books for animal lovers
usd prices

Price:

$7.85

gbp prices

Price:

£5.40

usd prices

Price:

$5.85

gbp prices

Price:

£4.05

usd prices

Price:

$12.05

gbp prices

Price:

£8.30

usd prices

Price:

$9.15

gbp prices

Price:

£6.30

usd prices

Price:

$7.85

gbp prices

Price:

£5.40

usd prices

Price:

$9.15

gbp prices

Price:

£6.30

usd prices

Price:

$11.80

gbp prices

Price:

£8.15

usd prices

Price:

$7.85

gbp prices

Price:

£5.40

usd prices

Price:

$7.85

gbp prices

Price:

£5.40

usd prices

Price:

$17.60

gbp prices

Price:

£12.15

usd prices

Price:

$36.45

gbp prices

Price:

£25.15

usd prices

Price:

$12.10

gbp prices

Price:

£8.35

usd prices

Price:

$6.50

gbp prices

Price:

£4.50

usd prices

Price:

$7.85

gbp prices

Price:

£5.40

usd prices

Price:

$7.85

gbp prices

Price:

£5.40

usd prices

Price:

$6.30

gbp prices

Price:

£4.35

usd prices

Price:

$7.85

gbp prices

Price:

£5.40

usd prices

Price:

$8.10

gbp prices

Price:

£5.60

usd prices

Price:

$7.20

gbp prices

Price:

£4.95

usd prices

Price:

$8.00

gbp prices

Offer price:

£6.00

RRP:

£6.99

usd prices

Price:

$10.45

gbp prices

Price:

£7.20

usd prices

Price:

$7.85

gbp prices

Price:

£5.40

usd prices

Price:

$32.55

gbp prices

Price:

£22.45

usd prices

Price:

$7.20

gbp prices

Price:

£4.95

usd prices

Price:

$9.15

gbp prices

Price:

£6.30

usd prices

Price:

$4.50

gbp prices

Price:

£3.10

usd prices

Price:

$7.85

gbp prices

Price:

£5.40

usd prices

Price:

$68.35

gbp prices

Price:

£47.15